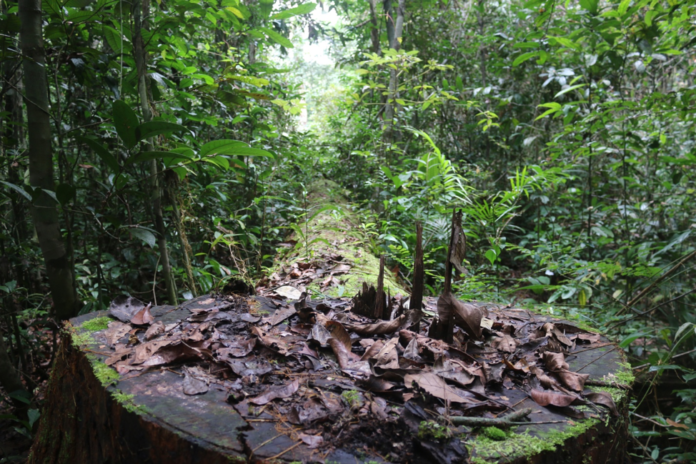 Top: One of the logs Masayaha, Magna's partner, illegally harvested in a forest in Compound Number One, Grand Bassa County, is seen next to its stump. The DayLight/James Harding Giahyue
---
James Harding Giahyue
---
Morley Kamara, the CEO and owner of Magna Logging Incorporated emailed The DayLight, bragging not to be bothered by stories the newspaper publishes about his company's violations
Kamara copies Cllr. Yanquoi Dolo, FDA's lawyer, responsible to help prosecute forestry violators
Kamara's Magna and Masayaha, its Lebanese-owned partner, have committed several offenses over the last three years—from an illegal subcontract to cutting trees outside their contract area
MONROVIA – The CEO and owner of a company has emailed The DayLight to boast that he was not bothered by revelations of the firm's wrongdoings, copying the in-house lawyer of the Forestry Development Authority (FDA).
"These stories do not move me one bit," said Morley Kamara of Magna Logging Corporation, sharing the communication with Cllr. Yanquoi Dolo, who helps the FDA prosecute forestry violators.
"You're missing your mark," Kamara added, the email in which he also copied Ali Harkous, Masayaha's CEO and owner.
Kamara was referring to a series of investigation reports The DayLight published last year that revealed a number of logging offenses the Liberian-owned firm and Masayaha Logging Company, its Lebanese partner, committed.
The FDA failed to take any actions against the companies despite overwhelming evidence of violations revealed in the four-part series, appearing between September and October last year.
The first story exposed a string of illegal logging operations outside the Worr Community Forest in Grand Bassa County, its contract area between 2020 and 2021. It featured interviews from chiefs and elders who participated in the activities, voice WhatsApp conversations with an FDA executive and a resident, and a report from SGS on the same offenses. SGS is a Swiss firm globally acclaimed in the verification industry. It created Liberia's log-tracking system known as the LiberTrace.
The second story showed that Masayaha abandoned some 600 logs it had harvested during the same period of its illegal harvesting spree.
The third story covered villagers' protest against Masayaha for their forest benefits, stopping the company from operating. The company has now paved a new road and repaired a clinic building in the community in response to the villagers' demands.
The last part of the series uncovered the illegality of a subcontract between Magna and Masayaha. The two had signed their deal unknown to the leadership of the community, a breach of the Community Rights Law of 2009 with Respect to Forest Lands. Villagers must participate in such deals, according to one of the law's guiding principles.
That story also shed light on Magna's capacity to conduct logging activities, having transferred its full logging right to Masayaha, less than a year after signing its agreement with the leadership of Worr Community Forest.
By law, Magna and Masayaha should have paid different fines for stealing logs and abandoning others.
Facebook Comments