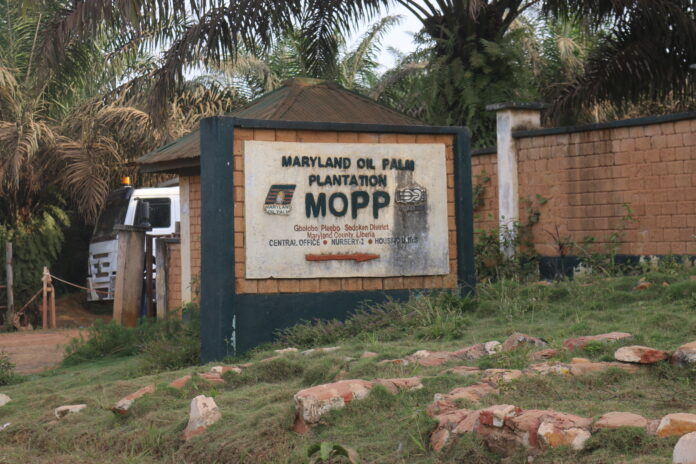 Top: The headquarters of Maryland Oil Palm Plantation in Pleebo, Maryland County. The DayLight/James Harding Giahyue
---
By James Harding Giahyue
PLEEBO, Maryland – The Maryland Oil Palm Plantation (MOPP) told the Liberia Extractive Industries Transparency Initiative (LEITI) it paid US$4,774 to communities affected by its project between 2020 and 2021
The LEITI, which publishes public payments, reported the fee in its latest report on agriculture, covering the period.
But that payment did not take place. MOPP has not paid a cent to project-affected communities since 2018, records of a bank account through which the company pays the communities reveal.
Activities of the communities' account at the International Bank (Liberia) Limited detail the communities' transactions from January 2017 to February this year. It further reveals that MOPP has made just two payments in the 12 years of the concession with the Liberian government. The company paid the communities US$35,390 and US$35,570.20 in March 2017 and 2018, respectively, according to the document.
In 2011, MOPP signed the concession with Libera, covering 8,800 hectares of farmland in Maryland and Grand Kru with a total value of US$203 million in the course of 25 years.
As part of the agreement, MOPP must pay the communities for portions of the land they develop at a rate of US$5 per hectare. That means the company has outstanding payments for the last years.
Residents from MOPP-affected communities who manage the fund corroborated the bank details.
Amos Quoh, secretary general community development fund MOPP, said the company had staff issues.
"They said they are in transition, some key officials are leaving," Quoh said. We invited them and they told it was going to see [a] reason to put money into the account."
MOPP did not respond to emailed queries The DayLight sent since February.
Funding for this story was provided by the Green Livelihood Alliance (GLA 2.0) through the Community Rights and Corporate Governance Program of the Sustainable Development Institute (SDI). The DayLight maintained complete editorial independence over the story's content.
Facebook Comments