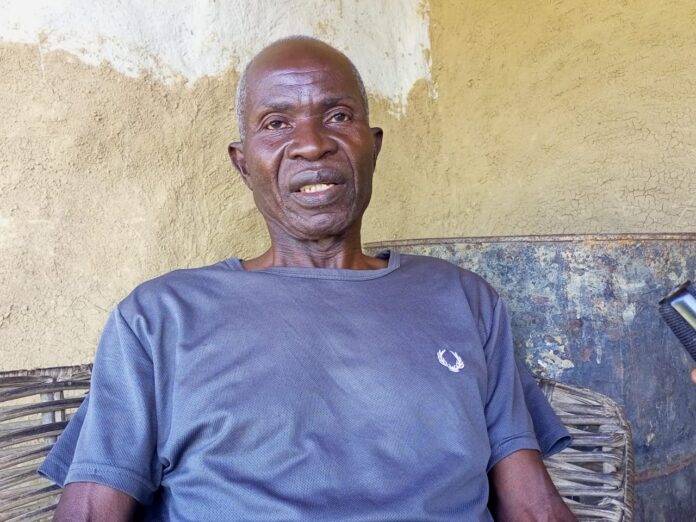 Top: Johnson Flomo, the chief officer of Korninga A Community Forest in Gbarpolu, and two others are accused of misusing US$76,000. The DayLight/Henry Gboluma, Jr.
---
By Henry B. Gboluma, Jr.
KORNINGA, Gbarpolu County – Three members of a community forest leadership in Gbarpolu County have been jailed for allegedly misusing $US76, 000 intended for social benefits.
Johnson Flomo, Austin Kamara, and Dennis Flomo of the Korninga 'A' Authorized Forest Community are being held at the Bopolu Correction Center after they were indicted in November last year by the Bopolu Magisterial Court for theft of property.
They allegedly withdrew US$US49,000 in July and $US 27,000 from the community forest's account for their own use, thereby depriving the community of its benefit, a violation of the New Panel Code of Liberia, according to court documents. That amount was paid towards schools, roads, and clinics by Covieyallah Investment Enterprise, which had had a commercial logging agreement with the community since April 2019 for its 48,296-hectare forest.
Johnson Flomo, who is the chief officer of the Korninga's community forest management (CFMB) body that represents the interest of the villagers in forestry deals, claims that he and the other accused men spent US$2,000 on a traditional ceremony and US$US1,750 to procure two motorcycles, US$US1,300 on legal services. He also said they spent US$1,310 for community-workforce training, US$6,275 for forest resources management training, and US$3,300 for Christmas gifts to five community leaders in December 2020. He even claimed that they spent US$2,000 to open a bank account with the International Bank Liberia Limited in Monrovia and US$500 on a round-trip to Monrovia, despite the leadership owning two motorcycles.
The US$27,000 withdrawal was not approved by the entire leadership of the community, a violation of the Community Rights Law of 2009 with respect to Forest Lands. The law mandates all expenses to be approved by the community's executive committee, which comprises a lawmaker in whose constituent the community falls, and the community assembly, which has a full representation of affected villages and is the highest decision-making body in Liberia's community forestry. Kamara and Dennis Flomo are chairman and co-chairman of the executive committee respectively.
The court has frozen the community's account until Mulbah Harris, the acting magistrate hearing the case decides.
Otis Karmon, Jr. is the plaintiff in the case, representing the community.
The three defendants risk prison terms and could lose their community forest leadership positions.
Stakeholders' views on the case
People in Gbarpolu have welcomed the process.
"People who cannot hear will feel," said Keyah Saah, superintendent of Gbarpolu County, in an interview with The DayLight. "I'm therefore supporting the indictment and calling for their rapid trial… to discourage the misusing of money accrued from community forest management bodies across the country."
Ruth Varney, the regional forester of the Forestry Development Authority (FDA) said, "This is the first instance case against CFMB members in Gbarpolu, so we are going to support the affected community to fully implement the court ruling to save the resources from their forest."
Facebook Comments