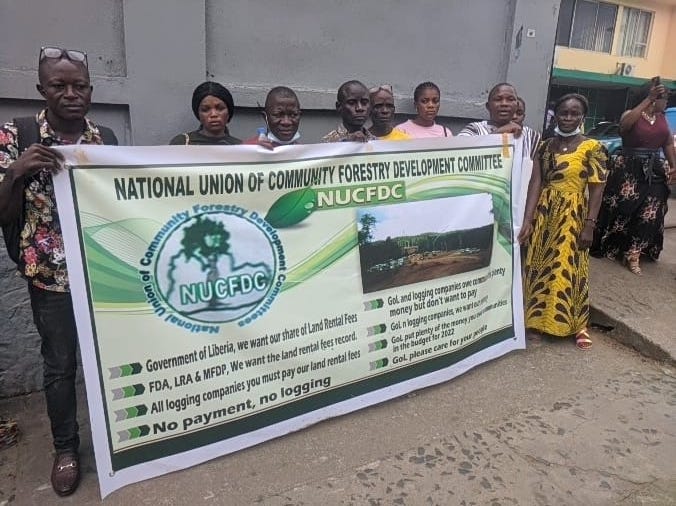 Banner Image: Representatives of communities protest before the Ministry of Finance in Monrovia. The DayLight/Theophilus Jackson
---
By William Selmah
MONROVIA – Representatives of forest communities across the country say they will stage more sit-in actions at the Finance Ministry to demand settlement of land rental arrears owed to them until their demands are met.
They reached an agreement with the Ministry of Finance and Development Planning to call off the protest, with both sides agreeing to hold discussions tomorrow to reach a resolution.
"If we don't hear from them, we will go back to the ministry again," said Annie Jerrue, vice president for operations of the National Union of Community Forest Development Committees (NUCFDC), which spearheaded a protest last Wednesday at the Ministry of Finance and Development Planning in Monrovia.
The protestors held placards brandishing: "No pay, no logging," and "FDA, LRA & MFDP, we want the land rental fees record."
In October, the government paid the 23 forest communities over US$200,000 out of US$ 5.5 million it owes them as land rental fees from concessions operating in their forests. The amount represents 30 percent of all logging-related land rental fees paid by logging companies to be given to affected communities affected under the 2006 National Forestry Reform Law provides that.
The government has paid only US$2.8 million (instead of US$8.6 million) from US$27.7 million it has collected from loggers since the law came into force, according to a report by Forest Trends.
Andrew Zelemen, the coordinator of the NUCFDC said the discussion will be centered on how much the government has actually received from logging companies so that a payment plan can be reached. He added that it would also inform the communities' engagement with the companies.
Last Wednesday's protest was the third this year, and the third year in a row since the communities have staged such a strike in 2019.
Facebook Comments