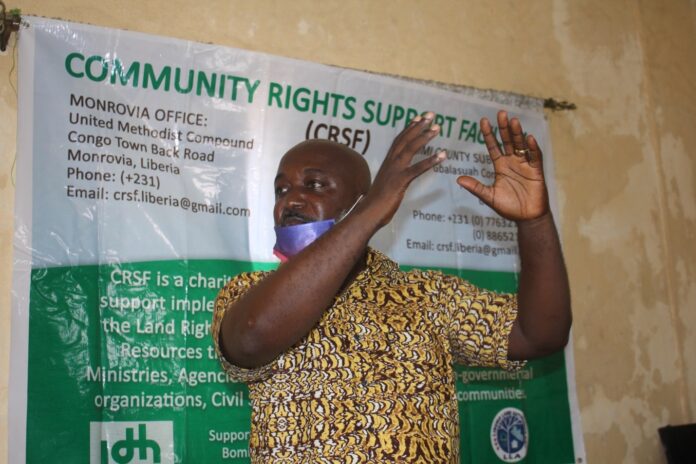 CONGO TOWN – An online repository of information about land, forest and investment in Liberia has been launched, a move its creator says will help meet challenges in the formalization of customary land rights in Liberia.
The Land Info Shop website allows civil society groups in the land and forestry sector to access strategies and tools in guiding communities to legalize their land ownership. It allows nongovernmental organizations to share their experiences with other land rights campaigners about their communities. It will also serve as a repository for land, forestry, natural resources laws, regulations, reports and other documents.
The Community Rights Support Facility (CRSF) created the website. CRSF began its work in 2020 and is currently aiding seven communities in Bomi County to legalize their land ownership. It received funding for the public repository from the Dutch NGO, Sustainable Trade Initiative (IDH).
"It will help land campaigners make the necessary interventions in communities without duplicating efforts already made by other civil society organizations," said James Otto, a campaigner at the Sustainable Development Institute (SDI), at the launch of the repository on Thursday. "It will address the gaps in communities on customary land rights formalization processes."
'A Bank for Information'
Liberia's Land Rights Act of 2018 recognizes rural communities' collective right to own their ancestral lands but not until they formalize their ownership. Some 55 communities now legally own their land, covering a million hectares or a little over 11 percent of Liberia's landmass. However, many other communities are still unaware the law exists. They need the support of the government and civil society groups to legalize their ownership.
Loretta Pope-Kai, the chairperson of the National Civil Society Council of Liberia, the website can help campaigners help those communities. She said the website would help save time, money and energy for land rights advocates, government agencies and investors.
"A consolidated system for information-sharing is very important," Mrs. Pope-Kai said, performing the launch of the repository. "A country wanting to use the land as an economic factor either for tourism, food production or other production of raw materials will have to invest in its information machinery.
"This is a great area for visibility; it will serve as an archive or a bank for information."
Mrs. Pope-Kai praised CRSF for linking land rights to forestry, a move she said would help mitigate conflict between communities' land governance structures established under the Land Rights Act and their counterparts under the Community Rights Law of 2009 with Respect to Forest Lands.
"I am also calling on partners to ensure that this website is supported beyond three years," she said in reference to the time CRSF has paid to keep the site running. "It is more important for Liberia as we implement the Land Rights Act, which has been hailed as progressive and responsive to national needs."
Facebook Comments