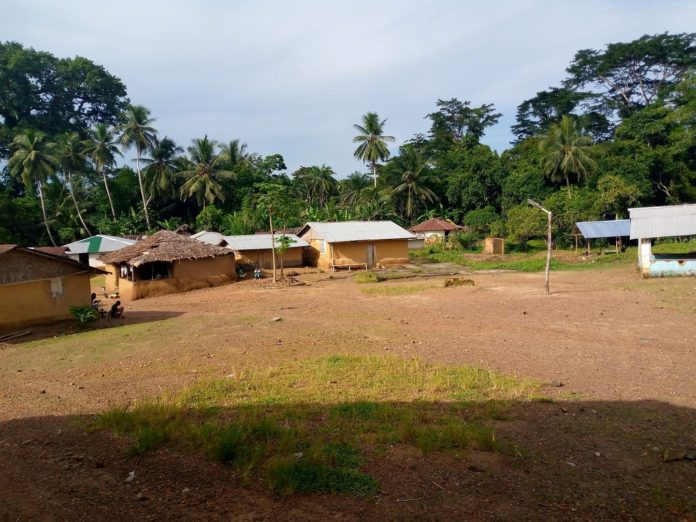 Banner Image: A view of Bola, Lower Tongay Clan, Bomi county. The DayLight/William Q. Harmon
---
BY William Q.Harmon
BEAFINA, Bomi—Seven clans in Bomi County have begun the process to legalize their customary ownership of their land.
Manoah, Zepeh, Upper Togay and Lower Togay of Senjeh District and Mannah Clan, Kpo Clan and Gorblah of Klay District made declarations for customary ownership of their lands, a requirement in the Land Rights Act of 2018.
"We, the people of the larger customary community of Manoah Clan, on this 25th Day of May, 2021, do hereby declare ourselves as a land-owning community in the Republic of Liberia," Manoah said in their declaration.
"We, the local leaders, including town chiefs, sub-chiefs, clan chiefs, dean elders, women and youth representatives of the community do hereby affix our signatures representing the authority vested in us by our people in fulfillment of the collective desire of our people to acquire deed for the land on which our forefathers and us have been residing for over two centuries ago," the declaration of Mannah Clan read.
Self-identification is the first of a series of steps in customary land rights formalization, the most progressive part of the land rights law that has received praise across the world.
Having self-identified, all seven clans now have legal ownership of their land, though they will have to complete all the legal steps in the law. They would now have to map their land and harmonize boundaries with their neighbors, develop bylaws and establish land governance bodies, and have the Liberia Land Authority conduct a confirmatory survey and register their deeds.
Elite Land-grab
A 2019 report by Sustainable Development Institute (SDI) found that a number of former and current officials of the Liberian government are grabbing rural communities' lands in Bomi. It revealed that more than 9,000 acres of land in the Senjeh, Klay and Suehn-Mecca Districts.
Titus Zeogar of the Community Rights Support Facility Bomi County team leader, told townspeople their declaration help put an end to land-grab. "This formalization will protect the community against the powerful people you say are taking your land," Zeogar told the declaration ceremony in Beafina, a town in Manoah.
Manoah and the other clans are underprivileged communities that form part of the 70 percent of Bomi's 84,119 people who are subsistent farmers, according to the 2008 National Housing and Population Census. Their towns and villages lack basic social services and infrastructure. Now they wish to prioritize development, especially bridges, clinics and schools, when they gain ownership of their land.
"We are hoping to complete the process so that the government can allow us to take care of our own forest," said Joseph Lawson, the clan chief of Manoah in an interview with The DayLight. "Our people have suffered too long and they have to benefit the resources that God has given us."
Facebook Comments