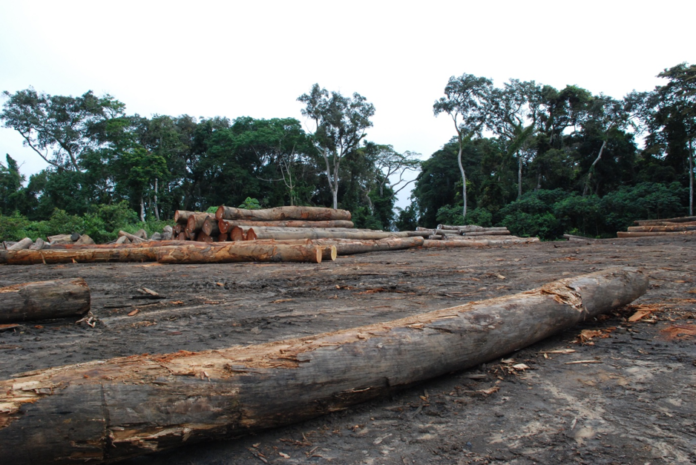 A log field in Salayea, Lofa County, run by Alpha Logging and Wood Processing Inc. The DayLight/James Harding Giahyue
---
MONROVIA – Stakeholders from across the forestry sector have proposed the revision of 10 agreements between communities affected by large-scale logging concessions and companies to replace failed, existing contracts.    
The drafts—which actors in the sectors bill simplified, measurable, achievable, realistic and time-binding or "smart"—will replace unimplemented social agreements in communities in Gbarpolu, Nimba, Grand Gedeh, River Gee, Maryland, Grand Kru and Sinoe. Social agreements contain commitments companies make to communities such as to pave their roads, build schools and clinics, and construct bridges.
"Social agreements are not fully implemented by the logging companies and social agreements are not renegotiated on time," said Andrew Zelemen of the National Union of Community Forest Development Committee (NUCFDC) at a one-day program climaxing Forest Law Enforcement and Trade (FLEGT) program recently.
Sponsored by the Food and Agriculture Organization (FAO) and the European Union (EU), FLEGT seeks to reduce and eventually eliminate illegal logging and improve forest governance.
It also seeks to increase the capacities of logging-affected communities to be able to monitor the benefits they receive through commercial logging, communicate and share information on the use of benefits from forest resources, and defend their rights.
"Community members, the logging companies, FDA and key stakeholders need to work together to develop, negotiate and regularly monitor the social agreements," Zelemen said.
Zelemen also said that communities in Bong and Maryland have developed one-year social agreement implementation plans for the 2020/21 harvesting season. He added that 22 members of different community forest development committees—the bodies that represent the interest of communities under the 2006 National Forest Reform Law of Liberia— are charged to monitor the implementation plans.
Women empowerment
The project also enhanced the capacity of 100 rural women as a means of increasing women's representations in the activities of communities' forest governance bodies ahead of their elections.
Only one woman heads a community forest governance structure across 23 communities affected by forest management contracts and timber sales contracts—known across the industry as FMCs and TSCs, respectively. And only 52 out of 230 or 22 percent of the members of CFDCs are women.
"Much women are not being involved in CFDC activities and leadership, mostly due to culture, low education and income for women, and domestic responsibilities," Zelemen said.
"NUCFDC is still seeking supports from partners to continue training women in the CFDC areas for involvement and monitoring CFDC activities, training still needed for new CFDCs after 2021/2022 elections."
Facebook Comments